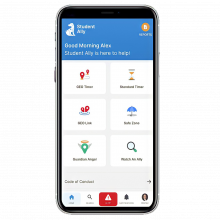 GEO Timer empowers users to set a destination, enter an anticipated time to arrive, and activate the timer.
Standard Timer operates similarly to GEO Timer, but doesn't require a destination.
GEO Link empowers users to create dynamic proximity zones with their friends.
Safe Zone empowers users to create customizable geo-zones around static locations, and automatically notify and provide their location to friends if they leave the safe area unexpectedly.
Guardian Angel empowers users to select a friend or campus security officer to track their location and watch over them during a walk home, an Uber/Lyft ride to their dorm, or any time they're concerned about safety or in an unfamiliar area.
Watch An Ally empowers users to share their location with other Allys.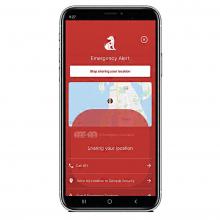 A dedicated home screen launch button allows users to easily initiate the alert, even in compromised or emergency situations, where you can also choose to manually share your location with your emergency contacts, campus security officers, or 911. ƒ    
An integrated push-notification system allows users to receive:
Emergency Alerts from Friends
Active Shooter Alerts
Friend/Emergency Contact Requests.
Formal notices of allegations, investigations, or identification in an ongoing case.
Formal reports, requests, and reminders that keep your institution Title IX and due process compliant.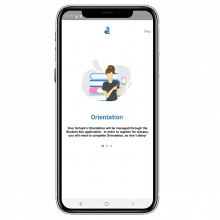 Our video orientation programming has been developed in collaboration with Emmy Award-winning media experts, communication specialists, and attorneys with decades of experience in sexual assault litigation, victims' advocacy, and training/compliance, and the orientation takes place prior to the start of classes, ensuring every student arrives on campus an educated and empowered user of the system.
Short individual quizzes follow each video and required passage rates ensure that every student is certified on the required material.
Back-end systems management allows you to customize your orientation programming and track student adoption and compliance.
Back-office analytical tools allow you to analyze each class' performance and compare your institution's performance to colleges nationwide.
Student Ally partners with on-campus and off-campus retailers to offer students prizes and incentives for performance and attention.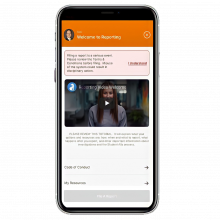 An industry-first, our 4-Method Reporting was developed with sexual assault survivor advocates to improve trust and victim comfort/confidence.

Users can, at their election, submit individual GPS histories, which, upon submission, integrate with our proprietary campus mapping and data point recognition to recreate relevant events, participants, and timelines.
The system notifies users when they're identified as a witness or when allegations are made against them.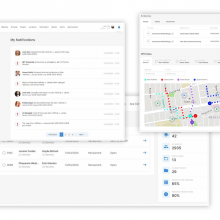 The Administrative Portal
The Student Ally Administrative portal was designed and built-in in consultation with Title IX Coordinators and Student Life Professionals to meet your needs. Operating as the command center at the heart of the Student Ally System, The Administrative Portal provides your administration unprecedented resources, control, oversight, and impact on the entire process.
Manage and organize your orientation programing.
ƒTrack user compliance and scores.
ƒAnalyze student performance by an individual question, or by quiz, or compare your student body's performance to that of other schools.
ƒA built-in tracking system allows you to quickly identify and contact non-compliant students.
ƒAdapt Orientations by user type (Freshmen, Sophomore, Junior, Senior, Graduate)
ƒLaunch refresher orientations for returning students or students in need of remedial assistance.
ƒEach case has a dedicated "Case Page" - designed to "read at a glance" so you can quickly assess the nature of the case, those tasks that are completed, and what to do next.
The individual case page allows easy oversight over our fully transparent investigative process so that you can efficiently review recent activities, communications, updates, and reports. ƒ     Use "Case Status" designations to quickly transition matters from intake, to the investigation, to the hearings, and decision-making.
Initiate push notifications to the parties and participants Applications.  Alert them to new evidence, request additional information, document receipt of notifications, and alert them to changes in the status of their cases. ƒ     Dynamic information management allows you to review narrative statements, view evidence by party submitted, view identified locations, and more. ƒ    
A built-in GPS History Viewer allows you to recreate individual user events, overlay GPS tracks to see who was with whom where and when throughout the course of events, high-light security camera footage required, identify key-fob entry/exit points, or perform data point recognition through Google Maps integration to identify off-campus locations.
Our custom interface has been designed with busy administrators in mind – so that you can immediately assess the important information you need at your fingertips.
Student Ally Investigative populates and updates a "Case Narrative"  -providing you with an up-to-date synopsis of the allegations and information.
Involved parties are prominently displayed, as are important dates and deadlines.
A hardwired case log creates an auditable trail for every action.
A "Reports" section allows Student Ally to direct formal reports for your immediate attention and review.
Proprietary Campus Mapping allows you to add and update important locations on or around your campus - like security camera placements, key-fob entry/exit points, or manually identified locations.
ƒYour school-specific locations interface with the App-based GPS mapping technology – allowing you to seamlessly identify and collect relevant evidence before it disappears.
A built-in Emergency Alert System allows you to send alerts directly to users' applications depending on their locations.
ƒActive Shooter Alert allows customized warnings (e.g. a silent alert telling users in proximity to the shooter to shelter in place, and an audible alert warning users outside of the zone of danger to remain off campus).
ƒAlso send fire, weather, or other emergency alerts.
ƒAdaptable staff roles and assignments allow you to control access and authorization to specific features or information.